"Put some happy in your math."
Hopefully, you enjoy learning about new math helps as much as we do. I am always on the lookout for something more to help solidify the basic math operations with Ben.
CapJaxMathFax
came along recently for review and Ben and I dove right in.

Designed by a gentleman named Jack Fretwell (degreed in Educational Technology),
CapJaxMathFax
is a fun and simple way to drill your students in the basic properties of addition, subtraction, multiplication and division.
Not overly heavy in distracting graphics, this program is simple enough for your youngest students to master, while challenging your older students who are struggling with memorizing these facts, or in need of remediation.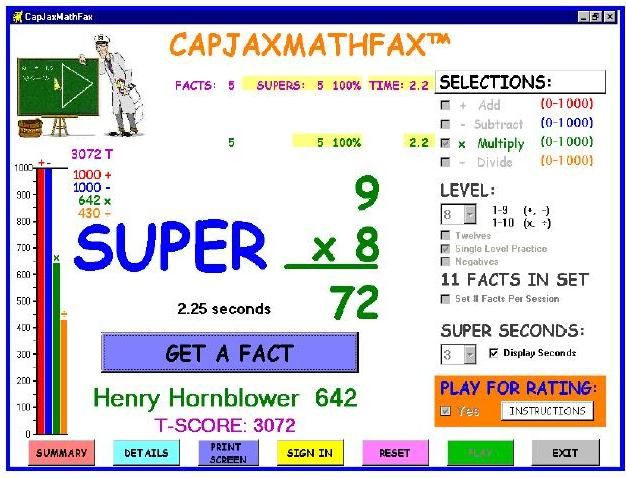 Memorizing the multiplication and division tables have been very challenging for Ben, who would rather run laps through burning coals than do math, but he absolutely loved playing this game. He has just enough competitive spirit about him to keep him logging on almost daily, in an effort to beat his best time. If you have more than one student, this can be taken a step further and all of your students can compete against each other!
We have tried many math apps and online games. But this program is more systematic than most. Your student can practice one operation at a time, or make it more challenging by putting them all in the mix. Either way, the program also allows your student to learn in incremental steps, building confidence and mastery simultaneously, with the added benefit of generating a report for mom or dad to follow his progress.
If your students are bored with flash cards and in need of more practice in this area, I believe this program might be for you. If your student is struggling with math facts at all, and you're looking to supplement your every day math curriculum, this program might be for you. If you would appreciate your student being able to work independently on math facts fluency, while giving you the ability to monitor his progress, this program is definitely for you.
At a nominal cost of $29.99
for a one-year downloadable license, it's budget-friendly as well. If you'd like to pay a nominal shipping charge, you can purchase it on CD instead.

Disclaimer: As a member of the TOS Crew, I received this product, at no cost to me, in exchange for my honest review. All opinions are those of myself and/or my son.