I have been formally writing homeschool curriculum reviews for about 4 years now.
I am a curriculum junkie (and that's not just self-proclaimed, judging by the many friends and readers who call me for information on the latest and greatest from homeschool companies).
Just when I think I have my hand on the pulse of what's out there, something new and amazing comes along (usually through the Schoolhouse Review Crew).

We have been given a one-year subscription to the
eScience Online Learning Program
. That name doesn't even begin to describe all that this incredible program offers. It should be called the
Amazing Self-Guided Video-Directed Hands-on Make My Child Excited About Learning Super eScience Program
. Or something like that.
Here's what you get:
Videos of an actual rocket scientist teaching science to your kids. The teacher's name is Aurora Lipper, and let me just say she breaks all the usual sterotypes of what you think of when someone says rocket scientist. She is just wonderful — her teaching style is engaging and her enthusiasm and passion for science is contagious. Not at all stuffy. Plus, since it's an eScience program, there is the benefit of having everything available online, so that whenever you're ready for science class, it's there waiting for you.
PDFs with textbook-style reading that correlate with the videos. There are graphics included here as well. You can either print these off and make a little book for your students, or read them from your computer or eReader. I sent them to my iPad.
Access to hundreds of activities, experiments and projects. Along with these projects, comes great instructions (including video examples) and supply lists. Most supplies needed can be found around your house or at your local Wal-mart or hardware store. There are so many activities offered that you can choose what interests your students or what you can afford.
End of unit exercises that can be used to test your student's retention of the material.
Parent resources, including helpful articles, a huge list of links to games, books, supplier suggestions, as well as more than 2000 pages of lesson plans (that's not a typo, I said two thousand).
Comments sections for each unit where your students can ask Aurora their questions. She's also readily available through email, and once a week, she hosts a weekly call-in where your students can actually speak with her one-on-one!
A tele-class every few weeks, taught by Aurora. We attended the astronomy class a couple of weeks ago and loved it. Aurora used Go-To Meeting, with a power-point slide presentation. She even took questions! The next tele-class is on Rocketry and will be held on May 8. Go register. It's free!
There are multiple ways in which to use this program —
1. You can use it as a stand alone science curriculum for grades K-12. Seriously, you can. There are a total of 19 (soon to be 20) units, all with lesson plans. You can visit the
Study Units
page to see everything that is offered. Each unit is filled with multiple lessons.
2. You can use it alongside your current science curriculum. They even have a
conversion chart
to assist you with combining eScience with popular homeschool science curricula, such as Apologia, God's Design, Considering God's Creation, REAL Science, A Beka, Bob Jones, The Noah Plan, and more!
3. You can use the delight-directed approach. This is what we did. This is my favorite way to homeschool and it works so well with eScience. To do this, just show your student the list of study units and let them pick something to learn about.
Because I know you're all wondering, I wanted to share this note, directly from the Supercharged Science website:
Note: The eScience program does not cover creation or evolution so ALL families can participate with our programs. We focus on how to build the robot, take data and measurements, work a microscope, launch the rocket, why a laser works…basically sticking to the physics of what's going on and how to build the projects. Of course, you can always add to it in any way you see fit.
From what I can see within this program, this is a true statement. I found zero evidence of evolution or creation-based science here, making this an easy program with which to integrate your own family's personal philosophy or theology.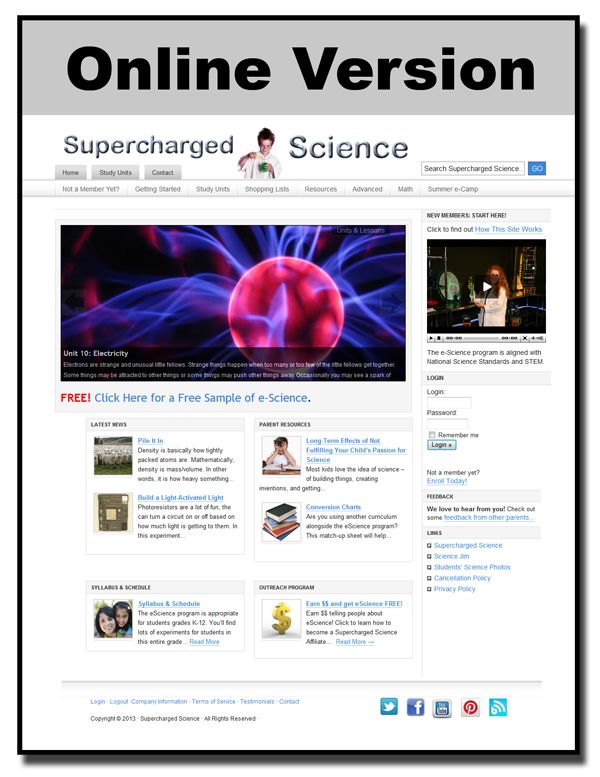 Let me tell you a bit about how we used this program.
We chose the delight-directed approach I mentioned above. That's just how we roll. I began by visiting the Getting Started page. Here, everything is explained. How to use the website, how to use the program, where to find what you need. This page makes everything must simpler. It's quite easy to get overwhelmed by the website.
Next, we visited the
Study Units
page, where I let Ben browse and make a decision about what he wanted to learn first. My astronaut-wannabe quickly settled on the
Astronomy
lesson in the
Astrophyics Unit
.
Let me stop here for a sec to explain that some of these units are quick — completed in a couple of weeks. But some are very in depth and the material covered is vast — these could take an entire semester to complete. I think the Astrophysics unit is somewhere in the middle. We spent our entire review period in Astronomy.
After Ben decided on Astronomy, I sent the textbook pages to our iPad for reading. Because we do science from a Creation perspective, I gathered books from our homeschool library for our book basket. We use the book basket for free reading and assigned reading each day. Because of Ben's love for science, we had plenty of books from which to choose.
Once Ben had the textbook reading available, and the book basket was put together, I just logged him into the website and let him have at it. The real beauty of eScience is that it is very self-directed. As long as you have a student who is fairly self-motivated and can read well, you can let Aurora be their science teacher while you go have a cup of tea (or chase toddlers . . . whatever works for you). Actually, they don't even have to be very self-motivated. Once they get into the lessons, they'll be very Aurora-motivated! Certainly, be sure you are enacting whatever methods you use to keep your student safe on the internet.
Ben's very favorite part of this lesson was on using the telescope. He received one for Christmas last year, and while he does take it out quite often for general stargazing, this time he had purpose to his astronomical studies.
Before I knew it, Ben had half the neighborhood kids (with a couple more telescopes and a set of binoculars) set up outside, while he narrated what he had learned about the night sky from the video lessons. These kids were out until 10pm. I finally had to shew them all home and force Ben back into the house!
His other favorite part was a lesson about designing a solar system. Aurora demonstrated on a video and provided a link to a free website where Ben could alter the the mass, velocity, and position of the sun and a body representing earth, along with other neat things (like moons and comets). This was a great demonstration of how perfectly God designed the universe. We found out that if the earth had been larger than the sun, the two would collide, for example.
The best part of this program is that Aurora thinks like a child. She imagines what kids would want to know and learn, and what methods will make the information stick, and then she teaches that. Ben responded very well to her teaching style. Sure, he loves science anyway, but he was engaged in this process. It is really a joy to watch. I think part of it is Aurora's teaching style, part of it is her enthusiasm, and a big part of it is how she breaks things down into bits that make sense. Then she adds these projects that just make the process so much fun.
I asked Ben if he wanted to continue using eScience and he looked at me with wide eyes and asked how long we would be able to. When I told him we have a one-year subscription, he responded with an enthusiastic, "yay!" I guess that means he wants to keep using it. And we will. He's making a list of what to do next.
Now for the nitty gritty. eScience has 2 different levels. For $37 a month, you can subscribe to the K-8 level plan. Or for $57 a month, the K-12 level plan. The cost is for your entire family, not per child. Your access to the study units is staggered. You will receive the first 7 units right away (Mechanics, Motion, Matter, Energy, Sound and Astrophysics) along with the information on how eScience is set-up and a unit on the Scientific Method. After that, more units will become available at a rate of 2 per month.
You can access all lessons free for 30 days with no risk. Cancel at any time. You do have to give credit card info and you will be automatically billed if you don't cancel.
Check here
for computer requirements. They are working to get the videos compatible with mobile devices. I'm hoping that comes during our subscription time. It would be amazing to be able to use eScience completely from our iPad.