It's no secret we are fans of the iPad and many of the educational apps we've downloaded over the past year. With the end of the Maya calendar happening just a few months ago, this ancient civilization was still on our radar, so we jumped at the chance to review a new history-based app from
Dig-It Games
—
Mayan Mysteries
. 
Ben immediately downloaded the app as soon as we received our code, and began playing the game.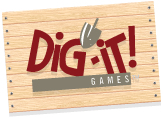 Award-winning Dig-It! Games was founded by professional archaeologist and former middle-school teacher Suzi Wilczynski, Dig-It! Games develops educational games that promote creative thinking, independent learning, and cultural understanding. In 2012, Dig-It! launched Mayan Mysteries, a puzzle-based game for Mac, PC and mobile devices that combines the fun of adventure with real information about ancient Maya civilization, for grades 5-9.
Dig-It! Games is dedicated to encouraging kids to explore the world around them through historically accurate content that conforms to curriculum standards and seamlessly blends entertainment and learning.
A few things your students can do with this app — 
The game alternates between the cartoon story of two kids and their uncle on an adventure to save the ancient Maya sites from looters and traveling through time to learn about this ancient civilization. 
In between cartoons, your child is on a quest through Central America as he explores the Maya culture while playing various games and puzzles, answering questions, exploring maps, uncovering artifacts, and decoding glyphs, in attempt to escape looters and track down a notorious artifact thief. 
The game is designed for just one player at a time (not an issue at our house, but something to consider if you have several kids who will want to play), with about 12 hours of playing time. The game allows for your child to quit play while saving the data collected to that point. 
There is quite a bit of reading involved and Ben found the game somewhat challenging, though at no time did he require my assistance. He was mildly shocked at the discussion of human sacrifice and told me that he doesn't think younger kids should play this game because of that. I would certainly want to caution you to that fact, so that you can handle this issue in a way that works for your family. Ben was already aware of this concept before playing the game, but I can imagine it would have stirred up some questions had he not been. 
Ben's thoughts — 
"I thought it was a really fun game and it was cool learning about the Mayans. I like being able to learn while playing games. It's like killing two birds with one stone. I have fun playing the game and I get to learn something new at the same time. It's FUN school!"
Personally, I noticed the high production quality, graphics that are rich with color and a game that is filled with content. While it is certainly a game, meant to provide hours of fun for your child, it is also a tool that can be used to teach your children ancient history. A great combination, according to Ben. We love the portability of our iPad and often devote school days to "appschooling." Mayan Mysteries is a nice addition to our repertoire of educational tools. 
Other members of the Schoolhouse Review Crew reviewed the Mayan Mysteries games on iPad, Mac and PC. Read what they thought by clicking on the banner below. 


Don't miss a thing! Subscribe to Ben and Me and get our articles right to your inbox!
 ©2007-2013 Ben and Me. All rights reserved. All text, photographs, artwork, and other content may not be reproduced or transmitted in any form without the written consent of the author. https://www.benandme.com