Our favorite source for nature unit studies,
Shining Dawn Books
, is having a buy one, get one free sale! Every one of the NaturExplorers titles is available for this deal. But that's not all. They have also include Loving Living Math and Loving Literature Grammar and Language Arts Packets!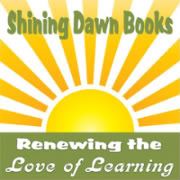 Some of our favorite titles for this time of year include:
Before we were introduced to NaturExplorers, I never new what to do with nature study, even though we love getting out in it. These units studies have given us literally hundreds of ways to explore, study, record, and enjoy nature. Now is the perfect time to try them for yourself!
If you have a math hate in your house,
Loving Living Math
will be a lifesaver. It is packed with ideas for how to bring math to life for your students. It teaches you how to do it, too! You can use these ideas for any age or grade level. We've used them for years!
Loving Literature Grammar Packs
are the perfect way to introduce your 3rd and 4th grader to literature-based language arts. It uses some of the best children's picture books to cover grammar, spelling, writing, reading comprehension, and more! You'll especially love this book if you are a fan of the Five in a Row curriculum. It uses many of the same books!
This special ends on November 10.
Don't miss a thing! Subscribe to Ben and Me and get our articles right to your inbox!