I sat in a puddle of tears last week, watching the news coverage of the tornadoes that blasted Oklahoma.
Oklahoma is the neighboring state to the west of my hometown near Fort Smith, Arkansas. It felt like family to me as I listened to the devastating news of lives lost, homes and businesses destroyed. And acts of heroism. My heart has been burdened for quite some time for our country. It seems that tragedy after tragedy unfolds across the news networks.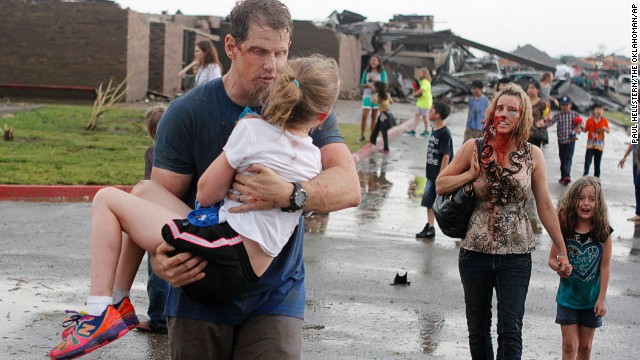 photo courtesy cnn.com
Death. Destruction. Terrorism.
Insanity. Sadness. Devastation.
It' s almost more than I can bear, save for the grace of the one true God, who is not caught unaware. This is no surprise to Him, and he cares. I cried out to him a lot last week. And poured over his Word for comfort.
It's not unusual to want to help in situations such as this, while feeling helpless at not knowing exactly how to help. Thankfully, there are simple ways.
The devastation in the United State's Midwest region breaks our hearts, and the Inspired Bloggers Network desires to use our influence and the power of our blogs to make a difference.
How Can We Help?
Volunteer One of the charities we are choosing to feature, Samaritan's Purse, is currently enlisting volunteers. So, if you are close to the areas affected, please visit the Samaritan's Purse website to see how you can serve those in need.
"Our prayers are with all of those who are suffering because of this massive storm. We are going to stand by them and do everything we can to help them recover physically, emotionally and spiritually." – Samaritan's Purse President Franklin Graham
Volunteers are already in action and more help is needed. Please consider donating your time to Samaritan's Purse and if you are not available to serve physically, keep those who are working in your prayers.
Contribute If you are Inspired to Help, please make a donation to either Samaritan's Purse or the American Red Cross to support their relief efforts in Texas and Oklahoma and help us track our impact by marking the amount you donated in the form below. If you would like, you can let us know you joined our effort by commenting on one of our blogs listed below.
Message and data rates may apply.
The following bloggers are all participating in the Inspired to Help campaign by posting a call to give on their blogs on Memorial Day… Monday, May 27th.
Please visit one or all of these blogs for their personal thoughts on the Inspired to Help campaign.
What is the Inspired Bloggers Network?
The Inspired Bloggers Network is a group of over 250 women bloggers of various niches, backgrounds, and experiences but all are united as they seek to support and encourage one another while growing their blogs in order to impact the world in a positive way.
How to join the InspiredBN
To join the Inspired Bloggers Network, you must be 1) female and 2) a blogger. Ask to join our Facebook group HERE. For questions or media inquiries, please contact Tabitha.

Don't miss a thing! Subscribe to Ben and Me and get our articles right to your inbox!
©2007-2013 Ben and Me. All rights reserved. All text, photographs, artwork, and other content may not be reproduced or transmitted in any form without the written consent of the author. https://www.benandme.com