Institute for Excellence in Writing (IEW) has been on my curriculum wishlist for awhile now. A couple of years ago, we participated in a homeschool co-op in which IEW was used to teach Ben's writing class. His teacher was well-versed in the ways of IEW, but the videos with Andrew Pudewa teaching were not used. Ben wasn't convinced he wanted to use this curriculum, but being a big fan Mr. Pudewa myself, I knew better.
It was obvious IEW was going to be a hit the moment Mr. Pudewa announced that neatness didn't matter and students should write in pen, because erasing wasn't going to be necessary. Ben literally yelled, "hooray!" and ran off to find his favorite pen. Mr. Pudewa was obviously on his side and this was going to be the beginning of a great new friendship.
I feel very blessed to be able to share this review with you.
Over the course of the past six weeks, Ben has used Student Writing Intensive (SWI) 3-4 times a week, while I have been working through the Teaching Writing Structure & Style (TWSS) program.
To avoid any confusion for those of you not familiar with this writing program, TWSS is a DVD Seminar led by Andrew Pudewa for the teacher to work through in order to learn how to teach writing. SWI is the student curriculum, also taught by Mr. Pudewa via DVD class. I'll begin with TWSS.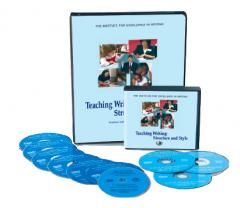 Teaching Writing: Structure & Style (TWSS) is a recording of a live seminar taught by Mr. Pudewa, containted in a 4-unit DVD set. Included with the program set is a 3-ring binder containing 160 pages which serve as both the course syllabus and notebook. They are meant to be used in tandem with the goal of helping you become a great writing teacher. Within the pages of the notebook are charts, word lists, sample lesson plans, and tips and tricks hand-outs. Through this 13-hour DVD Seminar, Mr. Pudewa introduces the methods behind IEW's writing program, and then gives homeschool teachers both the tools and confidence to teach writing to their own students. I don't know about you, but the two things that have likely kept me from being the writing teacher Ben needs and deserves are those two things — the tools and the confidence. While this seminar doesn't teach you everything you need to know about writing and how to teach it, it lays a firm foundation for successful creative and expository writing, for all levels — grades 2-10.
This DVD set also contains 3 workshop DVDs, in which instruction is demonstrated by Mr. Pudewa to all 3 levels taught by IEW's Student Writing Intensive. The Student Workshop for level B (Ben's level) was my favorite part of the entire course. It was very helpful for me to watch Mr. Pudewa teaching the material. I learn best this way. Reading is great. Hearing is better. But observation is where the rubber meets the road for me. Thankfully, this would not be the last time we would get to enjoy Mr. Pudewa's easy and effective teaching style.
In Student Writing Intensive (SWI) Level B, the instruction continues, only now it is Ben's turn to learn from the master. Over the course of roughly one school year, SWI-B teaches students in grades 6-8 through live classes taught by Mr. Pudewa. The 4-DVD set contains about 7 hours of instruction in a small classroom setting, just as though you are sitting there with the other students.
The SWI set includes the DVDs, a Structure & Style Overview DVD (for those who do not purchase the entire Teaching Writing: Structure & Style set), a 3-ring binder with dividers, and 100 pages of hand-outs, enough for one student. IEW does give families the right to copy these pages for more students within a family, however you can purchase an
extra binder with hand-outs
for $19.
The methods behind IEW make sense and are easy to implement. The best thing it does is take out the "I don't know what to write about" factor. This has got to be the number one reason children struggle with writing. I know for Ben, if I hand him a piece of paper and pencil and ask him to write a paragraph about anything he wishes, he will still be sitting there 2 hours later with a blank page. So, being the brilliant program that it is, IEW hands your student a few paragraphs already written and then teaches him how to re-write them.
In just a few short weeks, Ben learned about things like "keyword outlines," "dress-ups," "adverbial clauses," "who/which clauses," and "strong verbs." He also learned some words that should never be used in writing, called "banned words," such as said, go, see, good, and bad. It's so much better (and more fun!) to use, shouted, scurried, spotted, impressive, and dreadful.
I cannot tell you how wonderful it is to have Andrew Pudewa guest lecturing in our homeschool. While Ben is learning the style and structure of
good
brilliant writing, I am learning right along with him. At some point, I'll need to take over, but for now, I am grateful to have such an amazing teacher for Ben.
And what does Ben think? In his own words, "I love having Mr. Pudewa for a teacher. For one, he's not a driller and killer. He's also not boring, and sometimes he's even funny. I think it's super-cool that he doesn't allow erasing, because he doesn't think mistakes are a bad thing. He says making mistakes show you are trying to learn. I like that. And I love writing with a pen!"
So, there you go — it all boils down to understanding that mistakes are a part of learning, writing can be fun if you use
good
impressive words, and using a pen is apparently pretty awesome, too.
Of course the true test is when Ben needs to write outside of his IEW lessons. He passed with flying colors recently when another curriculum we were reviewing required more writing than he was used to doing. While he didn't perform perfectly, what I did notice was his willingness to jump right in there to get the assignment completed. No whining or complaining, and no "I don't know what to write about" comments. He brought his IEW notebook along as well, to make sure he had good replacements for banned words, and to remind himself to "dress-up" his sentences.
For me, IEW is confidence-building. Actually, for both of us, IEW is confidence-building. It's also commonsensical, easy to implement, and fun. It's a hit. I don't think we'll be turning back anytime soon.
To read what other members of the Schoolhouse Review Crew thought, click on the banner below.


Don't miss a thing! Subscribe to Ben and Me and get our articles right to your inbox! ©2007-2013 Ben and Me. All rights reserved. All text, photographs, artwork, and other content may not be reproduced or transmitted in any form without the written consent of the author. https://www.benandme.com