At first thought, nature study sounds like it comes with a lot of planning and purchasing of supplies or materials. The truth of the matter is while having all the things handy is nice, there are just a few must-haves I recommend for nature study.
What is a nature study?
Although nature study has been around for quite some time, it only recently took off as a popular education movement. Within the homeschooling community, nature study is often tied to certain philosophies like the Charlotte Mason and Montessori methods. In a nutshell, a nature study uses the great outdoors to teach kids a variety of skills and concepts. Not to mention, it also provides a unique classroom environment.
The Benefits of Nature Study
I briefly mentioned the fact that nature study helps teach many skills and concepts, but let's talk in a bit more depth about the true benefits of incorporating this concept into your homeschool.
Nature study bring science to life.
Science is one of those hit or miss subjects with most kids. Either they love it or hate it. Throw in a nature study, unit study, and hands-on learning and you've most likely won your child over without them realizing it. Suddenly, studying plants and animals doesn't seem so bad through the eyes of a nature study.
Nature study makes learning interesting.
Most homeschoolers start their journey with the good ol' textbooks, workbooks, and following everything to "T" method. When you realize that learning can take place outside the box, education is seen as everyday lifeschooling – including spending time outdoors. It's amazing to watch kids explore and ask questions simply by playing in dirt, with flowers, or near a body of water.
Nature study enhances thought processes.
Because nature study is seen more along the lines of child-led learning, much direction isn't needed. Nature study banks on a child's exploration, discovery, and creativity. While feeling the texture of a stone or seashell, a child may wonder why it feels the way it does or how it came to be and begin to ask questions and seek answers. These are much needed (and lost) skills.
Nature study connects your child to . . . well, nature.
It's probably a given but the more time spent in nature the more you learn about and connect with it. A pack of birds is no longer just a pack of birds flying. Your child may begin to recall the kind of bird along with their habitat and behavior. They will recall why geese fly in a "V" formation. Perhaps they'll see a certain plant and be able to remember it's medicinal uses or how nature uses bees and butterflies to move pollen from one flower to another.
Nature study offers variety.
Most kids agree that working in a textbook can get pretty boring. Even parents agree that offering their child a variety of ways to learn about a concept would be nice. Nature studies can do just that. Using a previous example, nature study can provide differentiation when learning about plants. Not only will your kids learn about plants, but they'll be able to put their hands on them. If applicable, they can learn medical uses, make tea, salves, and so on. Even a simply activity such as pressing flowers to keep makes learning more fun and interesting.
6 Must-Haves for Nature Study
Now that we've looked at the benefits of nature study, let's check out some must-haves to make planning and executing your next study a breeze!
Nature Journal
You can certainly buy a nature journal, but if you'd like to take the frugal route, consider taking some blank printer paper, cutting it in half and stapling the side. You can also keep the sheets full size. Encourage your children to decorate the cover of their journals and make sure they're in tow every time they go outdoors. If you'd like a simple printable that covers seasonal nature study, I created a simple printable one that is offered free to my email subscribers. Simply enter your info below to get it.
Writing & Coloring Utensils
Like most homeschoolers, you've probably got a flux of these lying around the house. Pull together a handful and put them in a bag designated for nature studies. Better yet, keep them with your kid's nature journals. Specify that they're for nature study time. If you happen to be someone who hasn't collected a lifetime of coloring pencils, our personal favorites are these from Prismacolor .
Field Guides
These are easy to stock up on and a great idea for taking on your nature walks. There are all types of guides from plants and trees to herbs and bugs. Depending on what you're studying at the time, grab that guide and go. Here's a list of a few of our favorites:
The Burgess Bird Book for Children
The Burgess Animal Book for Children
Take Along Guides:
Rocks, Fossils, and Arrowheads
Wildflowers, Blooms, and Blossoms
Caterpillars, Bugs, and Butterflies
Snakes, Salamanders, and Lizards
Magnifying Glass
There is a lot we naturally overlook because let's face it, we're not that close to the ground. Our kids, however, are anywhere from 3 to 4 feet from it and like to spend time down there. Giving them a magnifying glass will help them explore on a much deeper and closer level, seeing more than meets the eye! You'll want one that is sturdy and easy for younger kids to grip.
Binoculars
Just as much as we encourage children to look down, we can also invite them to look up and out. Keeping a pair of binoculars on hand will help them do just that! Again, you'll want something kid-friendly, easy to grip, and hard to break.
Bag or Backpack
Keeping in lieu of all things nature study, it's a great idea to have a designated bag or backpack to keep everything in. Then, consider keeping this bag in a convenient location for easy grab and go. Also don't forget to have your kids clean them out every so often as they can become a home of sticks, rocks, dirt, and the like. We like a bag with lots of pockets.
Final Thoughts
There are other things you could take along on nature studies – sunscreen (if weather permits), bottles of water, gloves, and collection baggies – but the most important thing you want to take is the spirit of exploration. There is so much to see and do in the great outdoors.
If you need a little more guidance, take a peek at the nature-themed unit studies — NaturExplorers — offered by Cindy West.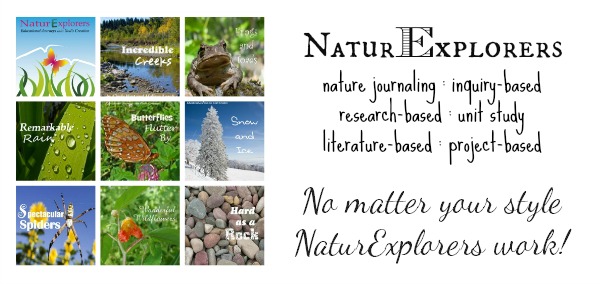 Regardless, nature studies are lots of fun and I highly recommend incorporating them into your homeschool schedule. I'd like to hear from you! Do you go on nature walks or do nature studies? Let me know in the comments below!