For co-op, we have been learning about owls. The boys got to hear the hoots of different owls native to our state. They or the past 2 weeks in co-also learned about the lifecycle of the owl, and how they ummmmmmm….eat little rodents and then regurgitate the leftover bones, fur, and hair. When they regugitate the leftovers, it comes up as a pellet, which some (hopefully well-paid) folks go into woods and barns and collect. Then some brilliant mind, who realized this would be the perfect thing for homeschooled boys, sterilizes them, packages them and sells them to people like us. And we get to dissect them in our little homeschools, or in our case, co-ops.
Ben ended up with a huge pellet. When we started pulling it apart and finding bones, we discovered right away that this hungry owl had eaten at least 2 not so little rodents. We knew that because we found 2 skulls and 2 sets of jawbones! There were various other bones as well, some leg, arm, hip, and backbones. We did our best to form the skeleton out of the bones and guess what the owl had eaten. All 4 boys ended up with different looking skeletons, some smaller with different looking bones (birds perhaps?). But Ben's definitely looks like a mouse or something similar. See what you think!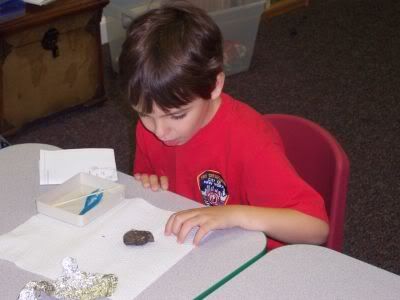 This is Ben examining his pellet. It didn't smell very good and he was a bit apprehensive at first. I had to start pulling it apart and picking through it with him. Once he started recognizing bones, he loved it (as did all the boys).
Here we have our finished skeleton, which we glued down on construction paper. See the skull at the top with the eye sockets! We pieced this skeleton together with the bones we had, we suspect that we had a mixture of at least 2 skeletons. You can see the descrepancy in the size of the femurs (thigh bones) especially.
So, if you were wondering about doing this project (it's a great one to do if you are rowing
Owl Moon
), then take the dive. Believe me, your kids will love it. And you won't mind it as much as you think!