Just when I think I have things set in place for our math curriculum, a review opportunity comes along that I just cannot resist. This time it's
Math-U-See
, a well-established and popular curriculum we have never tried. So I raised my hand and
begged for
requested
Epsilon
, since Ben is currently working on learning fractions.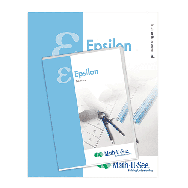 We received everything needed for success with Math-U-See Epsilon — Epsilon Instruction Pack which includes the Instruction Manual with lesson-by-lesson instructions and full solutions, and the DVD with lesson-by-lesson video instruction ($45), Epsilon Student Pack which includes the Student Workbook with lesson-by-lesson worksheets, systematic review pages, and Application & Enrichment pages as well asEpsilon Tests ($30) and Fraction Overlays in a 6-pocket cloth holder ($33).
Having never used Math-U-See before, I can't speak to the value of recent updates, but according to their website, the latest changes in Epsilon include:
 "applying the mastery of operations (addition, subtraction, multiplication and division) to fractions, decimals, and percents with the expanded activities and instruction." 
We added Application & Enrichment pages to the Student Workbook. Most of these focus on a deeper understanding of fractions and fraction word problems; a few also cover additional topics like grouping symbols or coordinate graphs.

We made minor edits to clarify and enhance explanations and examples in the Instruction Manual and the Student Workbook. We added a few new points to the Instruction Manual (e.g. instructions for comparing decimals).
Math-U-See is a different kind of math program than we have used in the past. Rather than teaching many different concepts during the year, it sticks with one so that mastery is obtained. So basically, the entire Epsilon curriculum is spent learning everything imaginable about fractions. It can be used with any age, as soon as mastery of whole number operations has been obtained. I think for most students, 5th grade would likely be the age most would begin the Epsilon level. 
Math-U-See uses a combination of video instruction with hands-on manipulatives. The DVD instructor is Steve Demme, the creator of the curriculum. The program is designed with 30 lessons, with the intent for the student to complete one lesson per week. For the 4 weeks Ben has used it, he watched the video lesson on Monday and completed 1-2 pages of lesson practice. The rest of the week was spent with more lesson practice sheets and  systematic review sheets. One of the updates mentioned above is the "application and enrichment" portion at the end of each lesson. While completing this section is not mandatory for the student to advance to the next lesson, I did make it mandatory for Ben. This portion of the lesson is filled with challenging word problems and other application problems. Ben actually enjoys word problems, so this was his favorite part each week. 
The supplied Fraction Overlays are ingenius, allowing Ben to grasp fraction operations in a way nothing else has. The visual/spacial learner in him was able to advance in his understanding of fractions rather quickly, once he understood the concept of the overlays. Even I understand fractions better after watching Mr. Demme teach with this tool. 
What I like most about Math-U-See is that the learning is more conceptual than frank memorization. Not that it's not helpful to have basic operations memorized. It's just that it's ok if your child doesn't. As long as they understand the concepts, they can be successful in math using Math-U-See. 
While I don't anticipate that we will put away our regular math and replace it right away, Ben would like to continue using Epsilon as a supplementary curriculum. That's not to say that this is a supplement or should be for most people. It's definitely a full and complete curriculum. Ben is just happy doing both for now, and I'm thrilled that my math-phobic child is willing to do both. I do believe that by the time he finishes Epsilon (and then Zeta — decimals and percents), he will be more that prepared for pre-Algebra. And that's really the goal here — a firm grasp on the current concepts, so that he can be successful in higher level maths. I have no doubt that Math-U-See will help prepare him. 
I didn't mention much about the Teacher's Instruction Manual — mostly because I didn't use it much. With the DVD instruction and a pretty firm grasp on fractions myself, at this early level, I didn't find it necessary. But I do believe further into the book, I will need the solutions part, so I am happy to have it.
You can see sample lessons and view the Table of Contents by visiting the website.


Don't miss a thing! Subscribe to Ben and Me and get our articles right to your inbox!
 ©2007-2013 Ben and Me. All rights reserved. All text, photographs, artwork, and other content may not be reproduced or transmitted in any form without the written consent of the author. https://www.benandme.com