Ben and I have had the pleasure of getting together with several other Five in a Row (FIAR) families over the summer. We've made lots of new friends along the way! In June, we visited in Frankfort with Wendy and her crew and Lynn and her family as well. My friend, Valerie, new to FIAR, came along as well. We visited the Paul Sawyier Library, where everyone was able to sign up for a library card (and thus free access to Rosetta Stone foreign language programs). After the library trip, we drove over to the Salato Wildlife Park. Salato is like a mini-zoo filled with animals native to KY. We had a picnic there and then toured the zoo.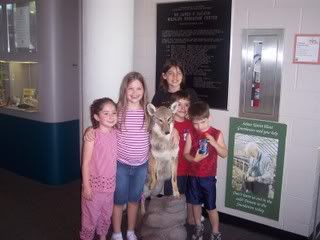 A couple of weeks later, Ben and I were able to travel with Dada up to Anderson, IN for 4 days. We spent lots of time with our friends, the Wagners who live in Fishers. But we also got to spend one day with another FIAR family, Ami and her boys, at the Muncie Children's Museum. We followed that with lunch at Subway. Ami and I hit it off immediately and chatted for hours before we knew it. Our boys hit it off just as well and really enjoyed playing together. Fortunately for us, we would see them again a couple of weeks later at the FIAR Midwest Kick-off at Spring Mill State Park!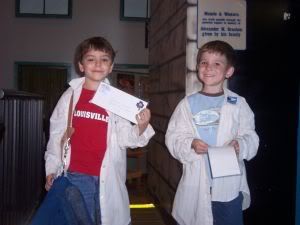 Our little get-together at Spring Mill would be the largest FIAR gathering of the summer. Both Ami and Wendy were there with their families, along with my friend, Valerie and her daughter. The other families included Fran and her daughter, Lynna and her family, Heidi and her family, and Tammy and her children. We grilled out hot dogs and had an old-fashioned potluck (or pitch-in if you're from IN), the children played on the playground, some folks ventured down to the caves, while another group of us headed over to the Pioneer Village. We were there all day and had the best time. We even shared some of our favorite homeschooling finds and lapbooks!