I heart history. 
Ben loves history, too. He especially enjoys historical fiction and biographies. But oftentimes I find it difficult to find great history books that are both appealing to an 11-year-old boy and written from a Providential perspective. So much of todays writings are rife with revisionism. 
Recently, I purchased a Kindle Touch for Ben, mostly because of all of the public domain books I can find for free on the internet. I have spent many hours trying to find as many public domain books for history, written from a worldview acceptable in our home. 
If only I had known that someone else had already done that work for me. And made it even better.
The books on the CDs, can be downloaded and read on your computer, printed and bound, or transferred to your ereader as mobi or epub files. I had no trouble transferring books to Ben's Kindle.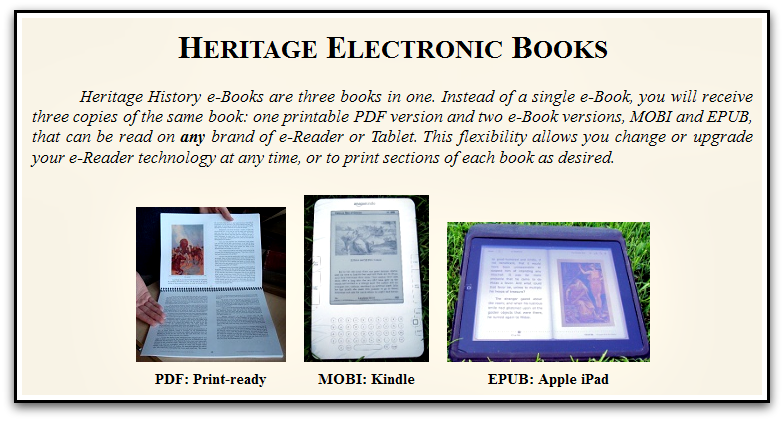 Along with the books, you will find the Compact Library. The Compact Library contains all of the files you need to navigate the collections — categorized  to make it easy to use. This feature is very handy, filing all of the books according to Subject (American History, European History, Ancient History, etc.), and Genre (History Stories, Biographies, Legends and Folklore, etc.). You'll also find book summaries and book series, as well as study aids, FAQs and a Teacher's Guide.
Another really fun feature is a catalog of images from the books. If you have an ereader, such as a Kindle Touch, you know that book images, especially color images, don't shine in this format. So Heritage has included files of images from each book.  
In addition to all of these wonderful books, we also received a pre-printed Teacher's Guide. While the Teacher's Guide is available in PDF with each CD, for added convenience, you may purchase this guide pre-printed (in color) and 3-hole punched. All you have to do is add it to a 1 inch binder. The quality of the printing is excellent, and the covers, as well as other color pages, are just beautiful! It's not likely that I would have printed the Guide to make a binder, but I love having it! You will especially want to consider purchasing this pre-printed guide if you don't have a high-quality color printer.  
I especially love the accountability forms. I've added these to Ben's history notebook so that he can easily track and record both which books he's reading and how much time he's spending reading them. We're including books we check out from the library here as well.
Other collections for you to check out include:
Disclaimer:  As a member of the TOS Crew, I received this product, at no cost to me, in exchange for my honest review.  All opinions are those of myself and/or my son.