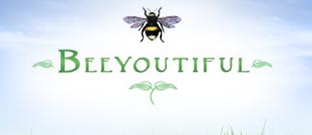 I've told you all about
Beeyoutiful
before. Beeyoutiful is a Christian family-owned company which believes that our health is our responsibility. They have filled their online storefront with products meant to help you in your endeavor to get or stay healthy. I love this company, and we have many of their health-giving products in our home.
Bee Strong
,
Tummy Tune-up
,
Bee Immune
— all staples in my medicine cabinet. And last year, I was privileged to review the
Milk and Honey Facial Bar and B.A.L.M.
I am pleased to share with you about some brand new items I had never tried before . . .
I have to tell you that the day my
Beeyoutiful
box arrived, Ben and I were heading out the door. So we grabbed the box from the front porch and took it with us. Ben opened it as soon as he got buckled in and immediately the aroma of lavender and peppermint began filling the car. It was heavenly. Even my boy thought so. In fact, he grabbed the Laveshmint Toner and sprayed it on his own face (shhhh . . . don't tell any of his friends!).
I couldn't wait to get home that evening and begin trying everything!
I'm always impressed as soon as I begin to read the labels on Beeyoutiful products. You'll find ingredients such as lavender, peppermint, and sweet orange essential oils, aloe vera, grapeseed oil, coconut oil, shea butter, vanilla, and grapefruit seed extract. Nothing you can't pronounce or have to look up on the internet. No fillers, chemical scents, or things you worry will harm your kids. Just lovely natural ingredients. So refreshing. And did I mention the aroma? It makes me smile just thinking about it.
The products I have enjoyed the most this time around are the Laveshmint Hydrating Toner and Daily Moisturizing Lotion. Ingredients for both include aloe and peppermint and lavender essential oils. I was also pleased to discover coconut oil in the Moisturizing Lotion. If you didn't already know, I am a huge fan of coconut oil, and my normal skin care regimen includes pure coconut oil for my moisturizer. I have fairly normal skin, not too oily, not too dry and I found the Laveshmint to be just perfect for me. I would imagine it would be beneficial for any skin type. It's very light and not at all oily. I'm pretty impressed that I've used it almost every day for the past 5 weeks and there's still about 3/4 of the jar left. The added benefit of the aromatherapy while you tone and moisturize is very relaxing and refreshing. In fact, there have been a few many times that I spritzed on the Laveshmint Toner just because I find it so refreshing. That bottle is about 1/2 empty now. I also tried the Moisturing Lotion on my feet. It really felt tingly and refreshing, I think because of the peppermint oil.
I've now used the word, "refreshing," three times to describe these products. I simply cannot find a better descriptor!
I also adore the
Hair Shine Spray-In Conditioner
. Hair Shine is a very light hair conditioner/detangler. It's base is aloe, but it also has lovely essential oils — lavender, rosemary, and citrus. Just like the Laveshmint products, it has a wonderfully relaxing aroma. I have fairly long, thick, curly, baby fine hair, so heavy conditioners are not my friend. Hair Shine is certainly not heavy, but it's also not a conditioner I would use after shampooing. It wouldn't work for my hair like that. What it did do was help with detangling after my usual shampoo and conditioning treatment. My very favorite way to use it though is on my dry hair, especially on mornings when I don't plan to wash my hair. When I first wake up, my curls are pretty messy. A few spritzes of Hair Shine and some scrunching and I was ready for the day. Instead of throwing my hair up in a pony tail or bun, I was able to have lovely curls every day. Not that I got to try it for this, but I've also heard that Hair Shine is really good for sunburns and bug bites. Since the base is aloe, I'm sure it is.
The
Vanilla Dream Body Butter
smells like a
dream
. I kind of wanted to eat it, truth be told. But I resisted and just used it on the skin of my ridiculously dry legs. It's quite thick but smooths on easily, and a little goes a long way. It has worked like a
dream
to soften those icky scales. I love using it after I shave. The ingredients? Shea butter, coconut and grapeseed oils, essential oils and vanilla. That's pretty much it. Perfection.
Not that I am surprised, but once again, Beeyoutiful has taken good care of me. This time of my skin and hair. I know that I will continue using these products for a long time to come.