I refer to Ben as my constant utterer. If he's not talking, he's humming, whistling, making gun noises, or . . . singing. 
The boy loves to sing. And so do I. 
There is music playing in our home all the time. Ben falls asleep listening to music on his iPod. 
He also has an interest in musical theatre. He has attended camps and workshops at one of our local children's theatres, and while the strong interest is there to do more with it, he is not confident in his singing ability. He has a sweet voice and I know the potential is there. With a little coaching, I think he could be an awesome singer. I sure would love to sing better myself. But private voice lessons are cost-prohibitive for us.
So, when the opportunity came to review a company called
The Vocal Coach
, I jumped.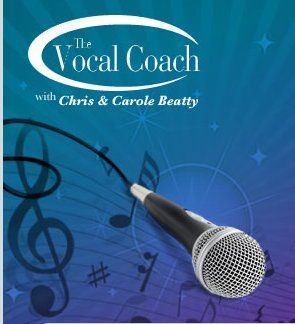 The Vocal Coach is a company founded by Chris and Carole Beatty. Chris and Carole have taught thousands of folks (young and old) to sing over the past 40 years. Vocal Coach is the tool they use to coach and teach, in workshops, privately, and now online. 
 The Vocal Coach teaches —
Good voice technique based on the knowledge that the voice is a physical, mechanical and acoustical instrument and that good foundations will equip you to sing any style you can honestly relate to.
The product we received is called
Vocal Coach Singer
. Vocal Coach Singer can only be described at having your own personal singing coach from the comfort of home. According to their website, it is the equivalent of $2000 of personal voice coaching time. The target age for this program is youth through adult. For your younger kids, 5-13, they also have
Teaching Kids to Sing
. Some members of the Crew reviewed it instead.
The cost for Vocal Coach Singer is $119.99 (CDs) or $99.99 (MP3s), and is a steal for what you get:
7 Training 
CDs:
Getting Started

Complete Breathing

Complete Warm-Up

Complete Tone

Complete Expanding Your Range

Complete Diction

Complete Performance
4 Workout CDs:
Daily Workout High Voice 1 & 2

Daily Workout Medium/Low Voice 1 & 2
Plus these great educational tools:
Guidebook – Full-size Instructional Guidebook to Ensure Success

Printable Lead Sheets – each exercise in our course, plus track lists

Personal Singer's Journal (Getting Started Journal & Workout Journal) to Track Your Progress

Vocal Coach Song Evaluation – Evaluation form to enable you to make more intelligent song selections
Not having any vocal training beyond high school choir, I had no idea what to expect. All I really hoped for was the ability to sing on key and perhaps learn to harmonize. What I soon discovered was a very professional system of vocal coaching that has not only helped us improve the sounds of our voices, but also one that emphasizes the mechanics of singing — breathing, posture, vocal exercises, expanding range, and more.
Instructions are given step-by-step, and I have to admit, it's a lot of work to learn how to sing! We took it very slowly, making sure that we had each step down pat before moving on, and even as we moved forward through the program, we continued to review the breathing, warm-up, and tone sections. There are no real lesson plans to follow here, you just work through things systematically, starting with the Training CDs, and then moving on to the Work-out CDs.
If you are one of those people that needs someone to tell you what to do when, then this might be something you care to know.
If you are one who likes to track your progress, a Personal Singer's Journal is provided.
The portability factor is priceless. Load everything up on your iPod or pop a CD in while you're in the car and you can take voice lessons while your're out and about. Of course, practicing what you've learned takes only your body, so, you can do that most anywhere. And boy, do we practice! 
Ben and I both really love this program. And I feel certain we are both better singers today than we were 2 months ago. 
Anyone who wishes to improve their ability to sing can benefit from Vocal Coach Singer. Whether you want to  audition for a musical theatre production (Ben) or just make your praises sound sweeter (me) –The Vocal Coach is for you. 

Don't miss a thing! Subscribe to Ben and Me and get our articles right to your inbox!