Are you a parent who hesitates to have your teen use technology in their homeschool? You're not alone. There are several reasons why some parents balk at the idea of their homeschool teen relying heavily on technology. For some, it's because they're concerned about what their teens may be exposed to, and rightfully so. For some teens, accountability may be an issue. For instance, instead of doing their lessons, they may email or chat with friends or wander over to a computer game instead. How about holding off because of the fact that technology is forever changing, and who can keep up with the latest and greatest? It also gets expensive. Smartphones, laptops, tablets . . . they all add up financially.
Why Technology is Important for Your Homeschool Teen
While these are all legitimate concerns, here are a few reasons why I feel it is important to find a way for your homeschool teen to become proficient with technology.
Technology for Homeschool Student Organization
It's pretty easy for students to be organized by utilizing technology. There are online calendars and online portfolios. Pretty much, your student can keep this information in his pocket or backpack with ease.
Additionally, your student's assignments, schoolwork, research, and contacts are all in one location. Because of this, your student can shave off a lot of time when needing to get to his tasks. Using apps such as Google Drive, Google Calendar, and Evernote, everything can be synced between your student's devices and yours.
And another big plus — if your student's work is organized with technology, it makes your job of preparing reports and transcripts that much easier.
Technology for Online Homeschool Curriculum
There are lots of opportunities for students to use on-line curriculum. From free websites to affordable paid services. As such, they're education is greatly enriched. And your pocket book is happy. Because as you know, if you're homeschooling by legal definition, you're not accepting any government money for your student's education. One of our favorite affordable options is SchoolhouseTeachers.com. You can read more about how we utilitze it and a few other resources in our homeschool for high school electives.
Another of our favorites is the Compass Classroom Mega Bundle Subscription. For just $29/month, your student has access to biblical worldview video courses in subjects such as American and World History, Economics, Latin, Biology, Poetry, and Literature. You can try it FREE for two weeks, then just $29/month.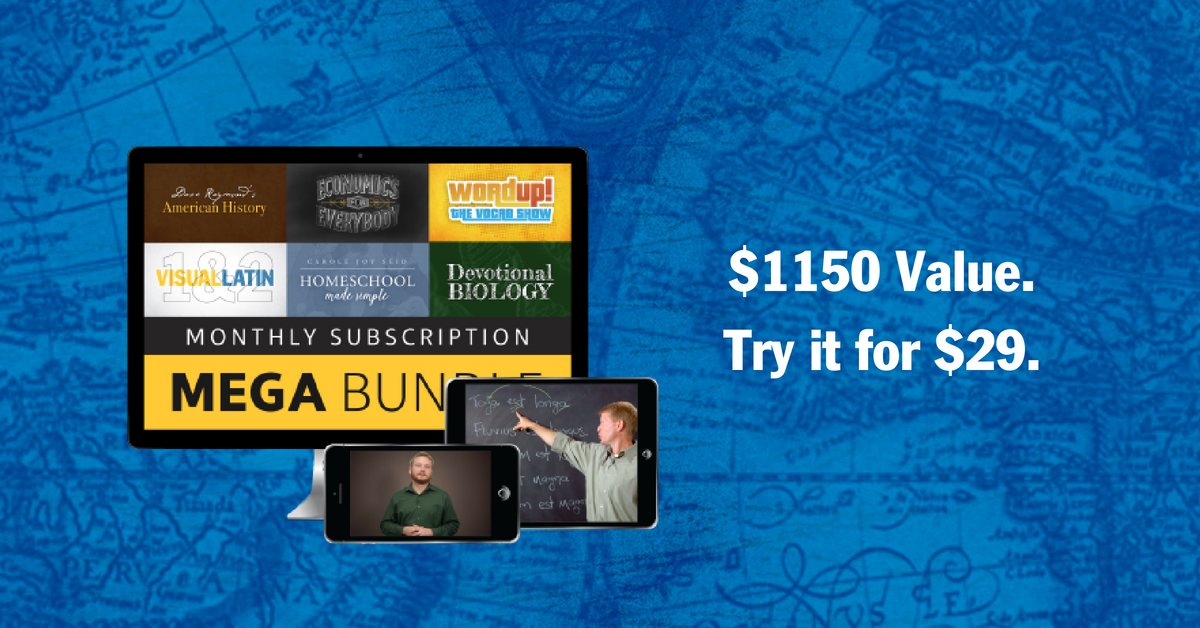 We are also using video-based curriculum from BJUPress Homeschool. Their Distance Learning options can be used in high school as well as in younger grades. They even have options for elementary-aged students.
Technology for Online Homeschool Classes
Slightly different than online curriculum, online homeschool classes allow for your students to connect with their teachers and classmates via live video.
Why is this helpful? Because it allows your students to ask questions of their teachers right then and there. Plus, they have the added benefit of interacting with their classmates in on-topic dialogue.
In this instance, if you're concerned about your student's integrity with being "in class", you'll need to hold him accountable. This comes down to setting healthy and firm boundaries.
Technology for Research
You and I had encyclopedia's and library card catalogs. That's not to say that research skills are different or that you want your teen to become lazy in doing research. But simply stated, technology makes research easier because there's so much more at their finger tips. And it's quicker because they don't have to necessarily wait for a library book to be put on hold when they need the information now. They can find a lot of the same information online almost instantly.
Technology for Individual Learning
Technology can give your student a greater opportunity for independent learning. As they explore and learn, they also become aware of reliable and unreliable sources to learn from and quote. In a culture of 140 character opinions, this is a necessary skill for them (and us!) to have. My own life will never be the same because of YouTube. It's both thrilling and amazing what they can learn. My husband has saved us so much money by finding tutorials on everything from how to remove computer viruses to car and home repairs thanks to video technology. We've also used podcasts in our home and homeschool to learn, study, firm up apologetics, and more.
Technology is a Necessary Job Skill
Ideally, your teen is going to have a job one day, if not during his teen years. And learning how to use technology may help your student stand out above his peers or be able to compete for a better job. At the very least your homeschool teen will be able to compete with his same age publicly schooled peers who know how to use it.
Technology in Ministry
Lots of ministries utilize technology. The worship lyrics on the screen? Those are displayed with a projector controlled by a computer. The slides on the screen that your Pastor uses? Likely it's done with PowerPoint. And some Pastors aren't tech savvy and rely on volunteers to operate technology for them. Let's not even begin to discuss the high-tech sound system and equipment for sermon podcasts and video integration that many churches and ministries are using today.
Technology Doesn't Have to be Expensive
Really, you don't need the latest and the greatest. This alone is an important lesson for your homeschool teen. Just like when weighing needs and wants with buying a car or even sneakers. Delayed gratification and working hard for what he wants is a life lesson that will benefit him both now and for the rest of his life.
That said, there are ways to purchase the technology that will serve him well, while saving a little money in the process. Take a look at the following:
Garage sales (watch your local newspaper)
Sellers lists such as Facebook Marketplace, eBay, and Craig's List
Friends updating their technology — we purchased a iPhone 5SE from a friend who upgraded to the iPhone 6 and posted on Facebook
One product we've used from the beginning and alongside more expensive options is the Amazon Fire Tablet. For under $100, your student can have similar benefits to the iPad for hundreds of dollars less. They are often on sale, especially around holidays (even the holidays not meant for children). You can also purchase Chromebook laptops for a low price in comparison to larger computers and laptops. Our ASUS Chromebook was under $200 last year during Black Friday.
Another tool we have used is supplied by our free public library — a membership to a wonderful website — Lynda.com — where we have utilized tutorials on everything from web development to PhotoShop, absolutely free. There are so many resources out there that are free or low-cost that can help your teen build amazing technology skills, but this is our favorite.