During my blogging hiatus, several of my Frugal Family posts will be covered by sweet friends.
Don't forget to click over to my link partner, Kelli's, blog for more Frugal Family goodness —
Homeschooling Adventurez
.
Today, please welcome Beth!
 *******************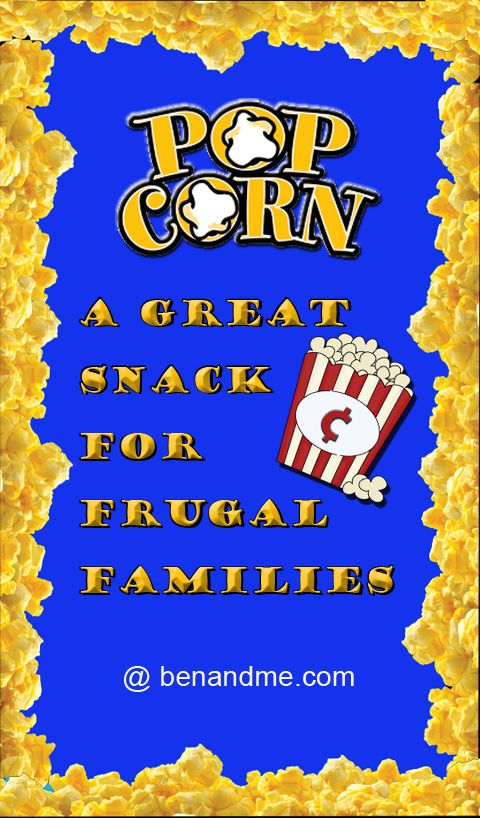 First of all I'd like to thank Marcy for the opportunity to share with her readers about our family's favorite frugal snack.  Last month she posed a question on Ben and Me's Facebook page about paring down the grocery budget.  Specifically, she wondered if it meant an end to snacks and desserts.  Faster than you can say "Orville Redenbacher"  I responded with my family's solution—Popcorn! 
Indigenous peoples of North and South America have been munching on and decorating with the kernels for centuries.  (Although sadly, the legend of popcorn being served at the first Thanksgiving is probably not true).   On winter evenings in Farmer Boy, Almanzo Wilder and his family snacked on  popcorn —but I'm not likely to try his version soaked in milk.   And yet nowadays popcorn has been relegated to darkened movie theaters where it is anything but frugal fare.
If your only experience with popcorn is the over-priced kind at the cinema or the packages you stick in the microwave let me tell you just how inexpensive a popcorn snack can be. I can buy a 50 pound sack at Sam's Club for $32.00. We can eat popcorn several times a week and still make our sack last the whole year.  The 2/3 cup I pop for my son and I weighs just under 4 ounces and makes 6 quarts of popped corn.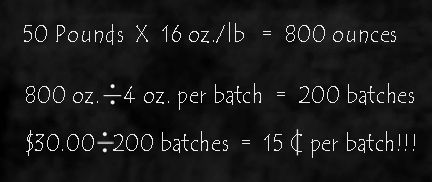 Unless you're a serious coupon queen, you could never match that bargain price with potato or tortilla chips. 

We store the popcorn in a 5 gallon bucket with a gamma-seal and keep it with our other grains downstairs.  I transfer a reasonable amount to a plastic container (one you might use for cereal) to keep in the kitchen pantry.  Our popper of choice is a Westbend Stir Crazy model.  We bought or first when my son was 3 and he used to be mesmerized watching the popping action.  The old workhorse ran fine for six years and would probably still be going if it hadn't been knocked of the top of the fridge.  You can use an air popper, a fireplace popper, they even a make specialty stove top popper with a built in stirrer on the bottom.   Of course we are talking about frugality here so you can start with just a large lidded pot on the stove.  If you're not going down the snack aisle of the supermarket, you'll have enough saved for your own popper soon enough.

Normally, we're straight butter & salt folks.  We make our own butter so I didn't factor that into the snack cost.  Sam's Club has a butter flavored salt two-pack  that's very inexpensive and lasts  longer than the 50 lbs. of popcorn. If you sprinkle it on when the kernels are freshly popped it sticks nicely, but if you like to mix it up here are a few other recipes to try.

Beth B.
lives in the rolling hills of the Missouri Ozarks with her husband of 11 years and their 10 year old son.  She began homeschooling and her blog, Ozark Ramblings  in 2008.   Her favorite hobbies are Dutch oven cooking over the campfire and digital scrapbooking.  Her goal this year is to learn to play the mountain dulcimer.
Enter your email address:
Delivered by FeedBurner
©2007-2013 Ben and Me. All rights reserved. All text, photographs, artwork, and other content may not be reproduced or transmitted in any form without the written consent of the author. https://www.benandme.com
We are thrilled to have you join us and pray Frugal Family 2013 will be a blessing to your family!