I remember the day my affinity for audio books began. Ben was 4 years old and I had been reading book after book after book to him, to the point that my throat was getting sore. But he was still begging for more. 
I was a member of an online community for homeschoolers at that time, and there had been a discussion going on about audio books. At that point, my knowledge of audio books consisted of those little cassettes that came along with picture books that beeped when it was time to turn the page.
Boy, was I in for a big surprise. Based on the recommendations of my online buddies, I had brought home some real audio books from the library. This particular day, when my throat was so dry and sore from reading for hours, I popped the first one in and just sat back and watched the magic happen. Ben carried around his little My First Sony with that audio book cassette inside for weeks. I think I renewed it at the library at least 3 times.
I still read aloud to Ben most every day, but on this day, I learned that I could let others read to him as well and not only would my voice get a rest, he would be exposed to so much more than what I could give him by myself. Since that day, he has listened to a host of different audio books — while he played, bathed, built with Legos, and drifted off to sleep. That day was the beginning of a love affair with audio books for both of us.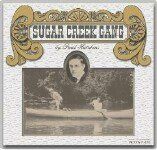 The Sugar Creek Gang is a series of wonderful Christian adventure stories, written by Paul Hutchens, beginning in 1939. A few years ago, another gentleman, Paul Ramseyer, was inspired to dramatize the book series for a radio show. The radio shows were eventually made available for purchase as The Sugar Creek Gang audio CDs. Actually, they began as cassettes (and you can still get them for a limited time on cassestte for half price, if you are interested). There are 36 books in 6 volumes on 72 CDs (over 100 hours), for your family to enjoy.
"These Sugar Creek Gang "Audio Adventures" are dramatically read straight from the original books.  Christian families LOVE this series because the gospel message is presented in such a simple, easy-to-understand style.  The whole series is, in fact, a discipleship journey… even parents who listen along witness the Holy Spirit working changes in their own hearts!Families also enjoy the delightfully interspersed segments of nature study, poetry, hymns, and even science lessons… all skillfully woven into the fabric of the stories."
We received Volume One
, a set of 6 audio books, to review. The usual cost for this set is $54.95 with free shipping. You can save $50 by purchasing all 6 sets for $279.70. These stories are great for kids of all ages, even the adult kind.
The adventure begins with
The Swamp Robber
, where the Sugar Creek Gang — 
Bill Collins, Poetry, Little Jim, Dragonfly, Circus, and Big Jim — discover a mysterious map, meet a bank robber, help Bill Collins welcome a baby sister, and learn about reaping and sowing. Click here to listen to The Swamp Robber for free. 
The stories continue as this gang of boys find themselves in the midst of many situations, figuring out how to apply their Christian faith to their fun and adventurous days. Ben loved hearing about all of their escapades and I loved hearing Biblical principles applied in lessons of courage, faith, prayer, and friendship — with the gospel message as the central theme. And I don't mean the gospel is a side story. It is THE story. This part was not lost on Ben either. In fact, he made a list of which of his friends he wants to purchase these CDs for as Christmas gifts, completely as a mode of evangelism. 
Audio CDs are never enjoyable, no matter how wonderful the story, without a great storyteller. And Mr. Ramseyer is one of the best we've heard. His ability to capture each  unique character with his voice makes listening to the stories an absolute delight. We could both listen to him all day long (and ummm . . . truth be told, we have). I wish he could read some of our school books for us!
Ben wholeheartedly recommends The Sugar Creek Gang for boys of all ages. I think girls would love them, too. After all, I'm a girl and I love them. 
Beloved Books was created to share wholesome, Christian literature with families. While their main ministry is to share The Sugar Creek Gang, they also have other incredible products to share as well. Be sure to stop by their website for more information. While you're there, you can get 20% off your entire order with this special code: 
BEN-AND-ME-20

Don't miss a thing! Subscribe to Ben and Me and get our articles right to your inbox!