History is undoubtedly my favorite subject to teach, and the one I am most picky about when it comes to books and curriculum. 
You see, for the past year, I have been embarking upon a journey to learn more about America's Christian history — the real story, with facts based on original documents like the Constitution, the Declaration of Independence, and letters and journals written by our founding fathers, not the watered-down, revised version that was literally force-fed to me in public school.
So many of the history texts written in the past several years are nothing but historical revisionism, meant to rewrite our American history to exclude it's Christian roots, and are filled with meaningless dates and tidbits of facts (?) that are just not memorable. In fact, they are boring.

But, Amy Puetz (
Golden Prairie Press
) knows something that I have discovered since I began homeschooling, and that you need to know, too. History is EXCITING!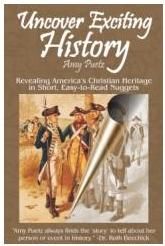 Uncover Exciting History is a collection of American history stories. Amy tells the tales of the people and events that shaped America in a way that we found  interesting, while creating the desire to learn more! Written to be used as a family read aloud or for independent reading for ages 12 and up, it was a perfect addition to our summer study of our state.
As soon as I downloaded the book to our Kindles, Ben began the search for stories about Kentucky. Chapter 10 is titled, To Kentucky and Beyond: America Begins the Push Westward. Perfect. In just a few pages, the chapter read as though Amy was here telling us the story of our state's beginnings . . .
"With the completion of the Wilderness Road in 1775, pioneers began pouring into the area despite the constant Indian attacks. Boone brought his family to Kentucky via the Wilderness Road and established a settlement named Boonesborough. His wife, Rebecca, and daughter, Jemima, were said to be the first white women to stand on the bank of the Kentucky River.
Unfortunately, the settlers had little time to enjoy the scenery, because when the Revolutionary War began, the British encouraged their Indian allies to attack the loosely scattered settlements on the frontier. So much violence took place that 1777 was gruelingly remembered as 'the Year of the Bloody Sevens.'"
I know you're wondering why I chose to pull out this particular excerpt. There are a couple of reasons. For one, I wanted you to see the lovely way in which Amy tells a story. She also uses some awesome vocabulary throughout the book — words like "gruelingly." But, more importantly, these two paragraphs clicked with Ben immediately. We have visited many historical sites in Kentucky. One, a state park along the Wilderness Road, has a small pioneer village and museum. In the museum are many pictures and books exhibiting the savage way the pioneers were attacked by Indians. It was quite disturbing for Ben to see. Nowhere does it tie in the Revolutionary War and the fact that many of the Indian tribes were allies of the British. It was a connection that needed to be made for Ben.
Something else I love about this book is the "Digging Deeper" section at the end of each chapter. Here you'll find a few discussion questions, a book recommendation, and a suggestion for further study. For the chapter I quoted from above, the activity suggested was to imagine you are a settler on the frontier captured by Indians during a raid. After finding a bit of paper, you decide to keep a journal of what happened. Though he's not the most enthusiastic writer ever, Ben had fun telling me (and acting out, I might add),  his own version of what may have happened.
I mentioned in my opening paragraph that finding history books that use original documents is important to me. Well, throughout this book, Amy refers to such historical documents — a log kept by Christopher Columbus, the Mayflower Compact, a letter Thomas Jefferson wrote to Meriwether Lewis. While the book is not riddled with these types of quotes and references, there are enough  to make me comfortable that finding the truth about America's heritage is important to the author.
You can read a sample chapter. It's Chapter 8, about George Washington crossing the Delaware and I promise it has more detail about that historical event than you've read before.
Not convinced yet? Maybe seeing the Table of Contents will help you decide that you must have this book in your library.
Uncovering Exciting History is available in ebook for $14.95 (currently on sale for $11.96). It can also be purchased as a printed book or audio book, read by Jim Hodges.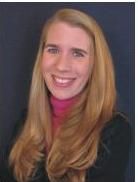 Amy Puetz (pronounced Pitts) is a homeschool graduate, a self-taught historian, and a servant of Jesus Christ. As the owner of Golden Prairie Press she publishes books that show history at its best. History has been a passion for her since childhood. Years of in-depth study (both in modern and old sources) have equipped her to write history-related books.
Several members of the Schoolhouse Review Crew are reviewing this book, along with other books written by Amy Puetz.

Don't miss a thing! Like Ben and Me on Facebook!