It's been another busy few weeks of online learning in our homeschool. It seems that lately we've had the opportunity to review several online learning programs. Ben loves the computer (who doesn't, right?), so he has really enjoyed these programs.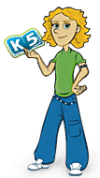 Today, I bring you K5 Learning, an online program designed for after-school or homeschool enrichment study. This is not an all-inclusive curriculum. It works primarily as an adjunct to your usual curriculum. For a child, like Ben, who really struggles with math, an approach like this is appreciated. I spend a lot of time looking for additional math help for him, and I don't always want an entirely new curriculum. The program begins with a free assessment of your student's ability in math and reading and then adapts to the results. I love that it doesn't just automatically teach at a grade level, because Ben's abilities vary a great deal.
We plan to continue using K5 Learning past the 6 weeks we were given for doing this review. I believe both the Math Facts and Spelling programs to be worth the monthly fee for us. I have been searching for a program that really drills math facts to mastery and K5 Learning does just that. Ben really enjoys the approach to spelling and vocabulary as well. Even though I don't have concerns for Ben in this area, I believe it will keep him working on the Math Facts to have the Spelling part to look forward to.
I'm grateful to have been introduced to K5 Learning.
Disclaimer:  As a member of the TOS Crew, I received this product, at no cost to me, in exchange for my honest review.  All opinions are those of myself and/or my son.