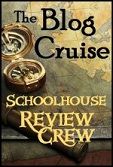 This week's Blog Cruise topic is "Large Family Homeschooling." Since we are a homeschool family of just one child, I am sharing the wisdom of another homeschool mom this week!

I would like to introduce you all to my friend, Angela. She and I have been online friends for about 7 years. As a mom of 6, I knew she would be the perfect person to write this guest article for me. I know you will be blessed by her heart. Thanks, Ang!


Fruitful Living with a Full House
If there's one characteristic that many homeschool moms share, it's self-inflicted condemnation. We are masters of seeing our shortcomings and we're convinced that we're ruining these precious children that God has entrusted to us. When the going gets tough, we might even start thinking that our kids would be better off with anyone else for their education and maybe even for life in general. I'd say, too, that in a large homeschooling family, since there's an even higher-than-average number of children to ruin, our mommy guilt might be further compounded. If you're one of those moms, I want to encourage you today with my own story.
If anyone has reason to despair, I'm the one. If anyone should have been disqualified to homeschool a family of 6 children, I'm that gal. You see, while I do have a good education under my belt, I am rather hindered by Adult ADHD. I am extremely disorganized and forgetful, and I can be quite a pushover. As you might imagine, those qualities don't mesh well with keeping a large brood of kids on task, especially when – as a pushover – I've allowed them to get addicted to TV, video games and – as a forgetful soul – I've repeatedly failed to keep tabs on whether or not they're doing their work correctly. (Take it from me, you don'twant to wait until they finish a whole chapter of math before checking their workbooks. My poor children!) Add in a new baby every other year, a few family moves to a new state, and a whole heap of financial stress—accompanied by a dose of depression and the drowning of sorrows in Facebook—and you have a recipe for disaster.
Sadly, that was the recipe I was cooking a few years ago by the time we had 5 school-aged children. Did my kids' academics suffer as a result?  Certainly. For example, one of the ways I tried to alleviate our financial stress was by taking a job as an online writing coach for four years. Yet, a combination of linguistic perfectionism and ADHD kept my work speed so slow that my take-home pay really didn't compensate the amount of time I was putting into the job. The worst part is, ironically, while I was teaching everyone else's kids how to write, I was sorely neglecting the writing skills of my own children. To this day, we're still playing catch-up in that area.
Now, I know that I've painted a rather dismal picture of homeschooling in our particular family thus far. But, do I think our children would have been better off in a school setting all day?  No, I actually don't. See, for all our shortcomings, we also each bring a unique set of strengths to the task of homeschooling, and they usually far outweigh the downfalls. In my case, one of those strengths is the fact that I talk to my kids…a LOT!  Sometimes too much…lol.  Sometimes, my husband needs to remind me to stop talking to them and let them do their schoolwork. But, there have been some wonderful benefits of having the luxury to spend all that time talking to my kids, even if certain school subjects haven't always been completed on a given day because of the long talks.
First of all, my children have had the opportunity to grow "in the admonition of the Lord" in far greater chunks of time than ever would have been possible if they were away from me all day. For me, that is by far the most tremendous benefit of homeschooling. I love the fact that my kids don't have to constantly ward off the bombardment of humanistic philosophies during their school day. Instead, they spend hours talking to me about who the one true God is and how He has made a way for us to be reconciled to himself through his Son, Christ Jesus. Likewise, we've been able to stop in the middle of many lessons when an issue arises—either from the content of their studies or from a spiritual question that's been plaguing one of them or from a sibling squabble—and we've examined that issue in light of God's Word, right then and there. Talk about teachable moments!
It is such a blessing to be able to walk my children through the process of applying God's Word to their hearts, to their daily lives, morning, noon, and night, all year long. In the same respect, homeschooling this large family has given me the chance to really get to know each of my children…and to hear their hearts. I can't emphasize enough how much it has meant to me to be "that person" in my kids' lives—to not be preempted by peers and rendered irrelevant.
I also value the fact that I've been able to make executive decisions regarding their schedules, allowing extra time for each child to develop his or her unique gifts. For example, one of our daughters spent several years amassing huge piles of drawings of very realistic-looking animals. I could have assigned her more reading and more workbooks during that season of her life, but I'm so glad that I had the freedom to let her pursue her passion instead. Now, she's a rather accomplished artist and a virtual walking encyclopedia of animals because she chose to read about all those animals that she was drawing. Plus, at age 12, she has been given full reign (or should I say, rein…lol) over 3 horses that belong to our neighbors. Her flexible homeschool schedule has enabled her to begin pursuing her dream, which is to someday own a horse ranch.
Another child of ours struggles with dyslexia and had absolutely zero interest in learning to read when she hit school age. However, she spent hours upon hours making clothes for her Barbie dolls out of anything she could tape or tie together. So, we finally gave her a needle and thread. Since then, she has been developing into an amazing seamstress and crafts designer. While she might always struggle to read up-to-speed, I fully anticipate that she will be a successful entrepreneur, selling her adorable creations. Or, at the very least, she will excel at a skill that will come in handy in many life situations. In any case, the flexibility to allow our uniquely gifted kids to pursue their passions has been one of my favorite aspects of homeschooling a large family.
The last advantage I want to mention is having the opportunity to work together with our children to advance God's kingdom. We have made it a priority to be mission-minded as a family, no matter where we're living or how tight our own finances are. For example, though many Americans would view our family as needy and poor, we've made a point, nonetheless, of taking food, clothing, toys, and furniture to other families in far greater need than ours. When our kids could have been otherwise tempted to feel sorry for themselves, instead, they have seen firsthand that there's always someone who is suffering even more than we are. And no matter how little we think we have, we still have more than plenty to share. It has been a blessing to all of us when we have fellowshipped and prayed with the "least of these," meeting some of their physical, spiritual, emotional, and relational needs with just a simple visit.
Currently, we are involving our kids in serving at the Urban Mission in Steubenville, Ohio. http://www.urbanmission.org/programs/hunger  We've enlisted the help of a few people at our church, and by God's grace, we're leading some Saturday night worship services for about 30-40 impoverished people and then feeding them a meal afterwards. Plus, this ministry provides groceries to almost 1,500 families every month! It's where you can truly live out your faith and show Christ's love to some of the poorest of the poor that you'll find in this country.
For example, when our 2 oldest girls were helping my husband distribute food bags there just before Christmas, a homeless lady came by and asked for a cardboard box because she had nothing to put her baby in.  L  After seeing that lady, our one daughter could hardly bear to receive her large pile of Christmas gifts a few days later from her grandparents and aunts and uncles. She said the sight of those gifts actually made her nauseous, as she thought about the poverty she had witnessed. And all of our girls started setting aside some of their gifts to give to their cousin, who wasn't going to be receiving much that year.
If you're part of a large homeschooling family, more than likely, you have made some financial sacrifices to keep your household afloat on a single income. But most of you probably have no idea what it means to suffer like a homeless woman in the frigid winter of Ohio, trying to keep her baby alive. Without a doubt, experiences with the "least of these" can't help but have a profound impact on you and your children. If I could suggest only one thing to each of you, it would be, get your kids involved in helping the neediest people you can find, whether you have a large family or an only child or anything in between.
If you don't know where to start, I can help you bless some of the neediest children in the world, in a terribly impoverished village in the mountains of Guatemala. My husband and I spent 2 weeks in the fall of 2009 serving with a medical team in Buena Vista, just west of Guatemala City. We fell in love with the children of that village and almost moved our own family there. We were going to work with those whom God is already using there to give the children of Buena Vista the gift of education. Since the Lord made it clear that we were to stay in the States, though, we have instead come up with a plan to provide Spanish  and bilingual books for the school library that they're building from scratch.
It is very difficult to find books in Guatemala, and it doesn't work well to mail them from the States one book at a time. So, I was very excited when, while praying for a solution, I was inspired with an idea to make gathering this library of books possible:  I created an Amazon Baby Registry that is actually a list of books for the library. In light of what I've shared about serving the "least of these" as a large homeschool family, I especially encourage you to involve your children, looking over the list together and deciding what books you can purchase to donate to the library. Here's the link: www.amazon.com/registry/baby/9041NL5V4TGN  And here's a link to the site where you can see the school that is being built in Guatemala: www.educatebv.com
Finally, I want to leave you with a list of my favorite books for homeschooling parents that are written by moms and dads of large families. Now, I'm sure that none of these families is without its fair share of failures. However, I think it is safe to say that each of them has excelled far beyond the average American family when it comes to living by the words of Colossians 3:2, "Set your minds on things above, not on earthly things." They have stood firm against the tides of our society and have resisted the technological takeover that has captured the minds of most of us and has held us hostage. Many times, we're virtually unable to look "upward" and feast on things above because we are so addicted to the explosion of visual and verbal data that has claimed our minds and hearts for this world and all its "earthly things." If you are like me and need to be inspired to RE-claim your children for Christ, these books (and the websites where they're sold) will fit the bill:
Rick and Marilyn Boyer – [14 kids]  Yes, They're All Ours (by Rick, 1994) and Home Educating with Confidence (1996).  
For the past 9 years that Angela has homeschooled her ever-growing family, she has had a passion for researching the endless supply of homeschool curricula available. That's not her only passion, though. While happily growing up as a pastor's kid in a small village of eastern Ohio, Angela fell in love with:
(1) JESUS. He is her 1st love, her greatest love and her forever love.
(2) Music. Angela loves to sing praises to her Savior, which she has done for years on her church's worship team. She also grew up playing the piano, clarinet and saxophone.
(3) 
Language
. Angela loves to talk…a lot.
J
  She loves to read. She loves grammar and spelling and proofreading. She loves to teach language, which she has done in numerous contexts. And she especially loves Spanish, in which she is fluent, thanks to numerous mission trips and study trips to Latin America.
(4)
Roy
! 
J
Angela and Roy grew up just minutes away from each other, but, in God's sovereign timing, they never met until their late twenties. Now, they've just celebrated 15 years of an ever-deepening love in marriage. Their family grew to include 5 kids in their 1
st
7 years of marriage, and they added a new baby to the mix in 2010, after months of prodding from their children to "please have another one." Thus, they have 3 girls and 3 boys:  Alayna (14), Abby (almost 13), Lydia (11), Trevor (9), Connor (7), and Grant (21 mths.).  
Since Angela and Roy both have music in their blood, it's no surprise that all of their children do as well. You can learn about how the Arbogasts' passions are being channeled into various ministries by visiting their family blog: 
www.arbogastfamilyblog.blogspot.com