For the past year, Ben and I have had the opportunity to use and review several books from Apologia which have strengthened our resolve (and confidence) to share Jesus with those around us, by equipping us in apologetics. The What We Believe series of curriculum is written for children grades 3-8.
Review: Who Am I? And What Am I Doing Here?
Review: Who Is My Neighbor? And Why Does He Need Me?
Today, I get to introduce my readers to a new apologetics curriculum from Apologia, written for high school students (and, as far as I am concerned, adults, too!), based on the book, I Don't Have Enough Faith to be an Atheist.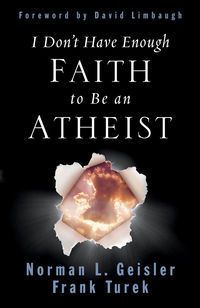 I Don't Have Enough Faith to be an Atheist, written by Norman L. Geisler and Frank Turek, maintains that it does indeed take more faith to not believe in the one true God, than it does to believe. In fact, they go so far as to say that not having faith in God means you do have faith in something not God. Every worldview, including atheism, requires faith.
"One who claims to be a skeptic of one set of beliefs is actually a true believer in another set of beliefs." (Phillip E. Johnson)
We all operate in the realm of probability. The question is, who has more evidence for their conclusion?
Throughout the book, the authors guide you to knowing and understanding why the logical, reasonable conclusion — the truth — lies in Christianity. They begin by explaining the 3 most common worldviews — theism, pantheism, and atheism. Once you have a grasp on these worldviews, you are taken on a journey to discover if and why Christianity is the one worldview built on truth. Because, after all . . .
Truth about reality is knowable.
The opposite of true is false.
It is true that the theistic God exists.
If God exists, then miracles are possible.
Miracles can be use to confirm a message from God.
The New Testament is historically reliable.
The New Testament says Jesus claimed to be God.
Jesus' claim to be God was miraculously confirmed.
Therefore, Jesus is God.
Whatever Jesus teaches is true.
Jesus taught that the Bible is the Word of God.
Therefore, it is true that the Bible is the Word of God and anything opposed to it is false.
Don't you love that?
Of course all of the tools needed to back up these claims are taught to you, the reader, in the book. If fact, you will learn to use several arguments (Cosmological Argument, Teleological Argument/Anthropic Principle, and Moral Argument) to defend this truth.
If you are a Christian, after reading this book, your faith will be even stronger, and you will have the confidence and tools needed to defend your faith against the fallacies and arguments of any non-Biblical worldview. If you are one is who seeking answers to questions about Christianity, this book will help you to understand better who God is and how we can be confident in the belief of the one true God.
Read sample pages from the book.
The I Don't Have Enough Faith to be an Atheist Workbook is a go along study guide for the book. While it is perfectly acceptable to read the book without using the workbook, the opposite is not true. The Workbook is designed to enrich, record, and solidify learning for your high school student who is reading the book, I Don't Have Enough Faith to be an Atheist.


The Workbook is a nearly 300-page spiral bound book organized in a logical way to move through the critical points of the book, equipping your student to defend his own faith, boldly. It is filled with supplemental information, study questions and activities purposed to encourage your student to reflect on the content of the book and bring about discussion.
The main content is divided into 4 sections:
Hook: This section is to remind your student of what the book chapter discussed and includes some warm-up questions.
Book: This section will take your student deeper into the specific issues covered in the book chapter read and includes comprehension questions.
Look: This section takes your student outside the book to research and confirm the information in the book for himself.
Took: This section summarizes the material just studied and helps with ideas for application to your student's own life and witness for Christ.
To supplement this study, there is also a DVD series by Frank Turek. This is not a requirement, but will enhance the study.
There are also a downloadable answer key for the study questions and chapter tests available on the website for those who purchase this curriculum.
Read sample pages from the Workbook.
I Don't Have Enough Faith to be an Atheist is available from Apologia for $16.
The Workbook is also available for $33.
I fear that my inability to express the sheer meatiness of the content of both this book and the accompanying workbook will leave this review sorely lacking. It stirred things within me that I just cannot share with you. Not yet. So let me just say this to you — if both defending and sharing your faith is important to you, this book should be in your library. If you don't have the relationship with God you should, and you wonder why, this book is for you. The curriculum should be considered for every Christian homeschool student for high school credit as well. It's an investment not only in the life of your own family, but in the life of each person you will touch with the information it contains. If you are wandering this earth without Jesus as your Savior, you need to read this book and then decide which worldview is the most reasonable. I would be honored to discuss that with you further, if you wish.